Jane & Mike – Bessaccar, Doncaster
We knew from the outset that we wanted a clutter free, lighter, brighter and more airy feel to our kitchen and when we started this journey we really had no expectations other than what we wanted to achieve.   We hope you can really sense this from the photographs .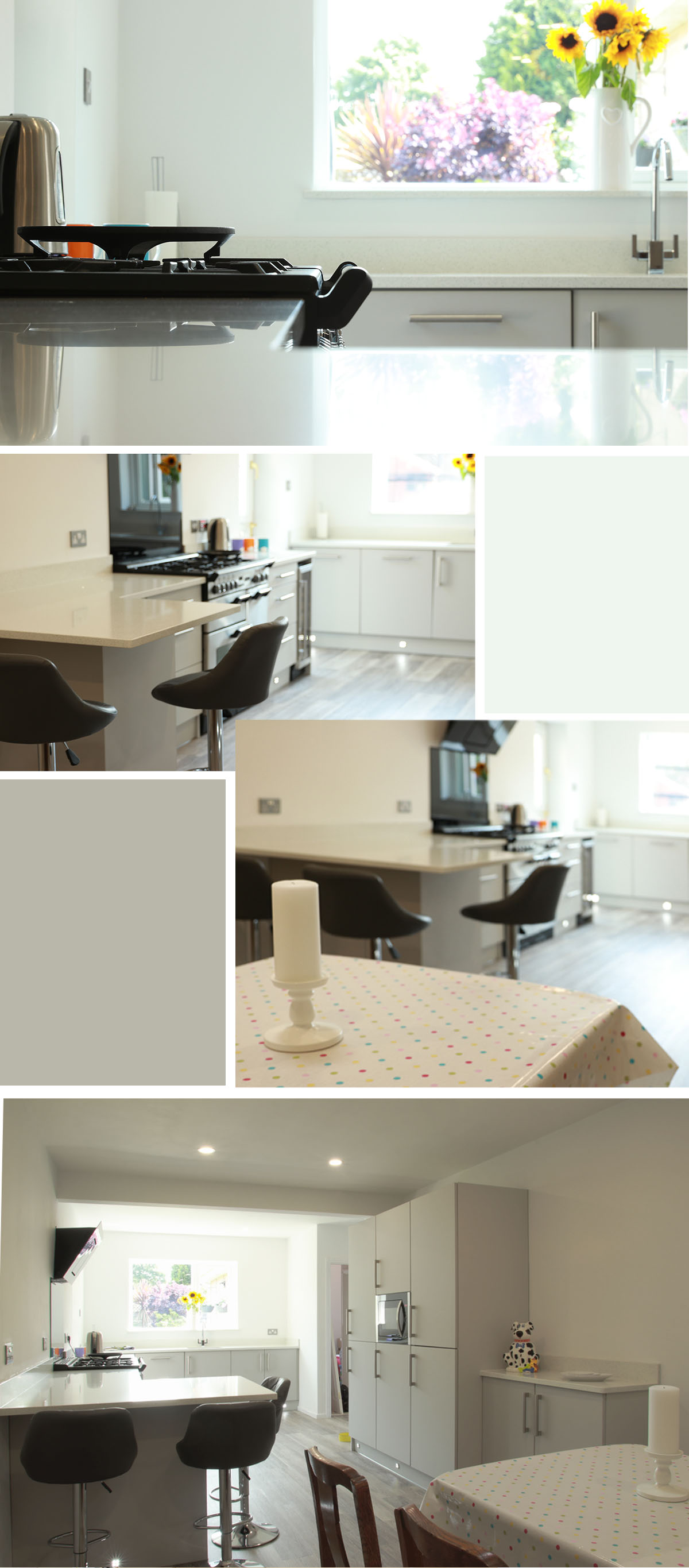 re-introducing our family heritage
A key part of our new kitchen was to keep and maintain the traditional dining table and sideboard as an area that could house items that belonged to our parents from our childhoods.  With the modern style being in such contrast to the more traditional styles we were very pleased  to be able to bridge the two periods and continue with the comforts and reassurance of old and also press ahead the practicalities of a clutter-free life-style.  As a family we wanted to continue to enjoy Sunday Lunch as we always have over the years and keep that with us in a more open plan lighter setting.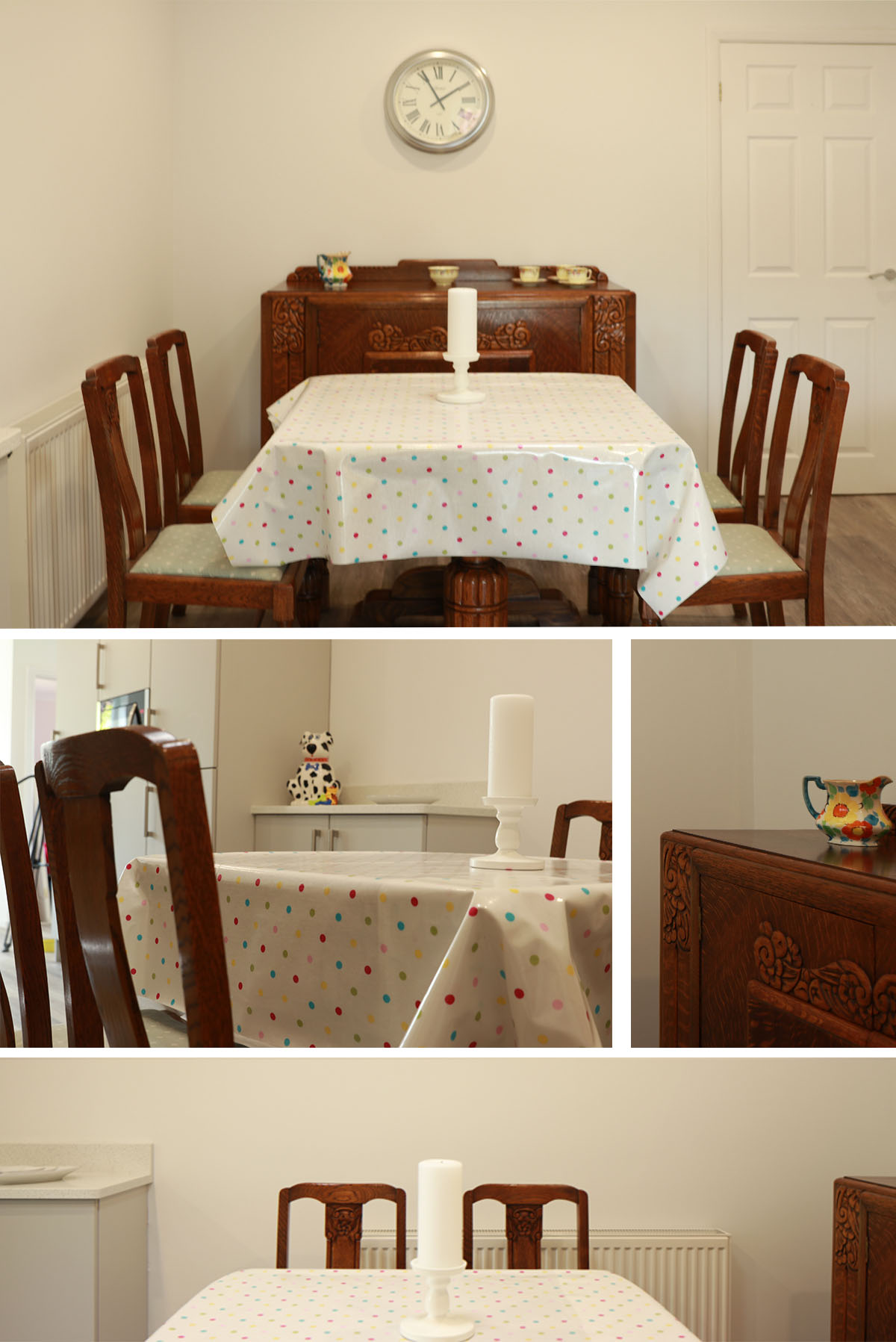 The breakfast bar that Kitchen Studio designed for us, provides the simplicity we were looking for. Life is easier. Whether we sit as a three or if we use casually when friends are over or we use it for snacks when entertaining.  The size, depth and breadth of the breakfast bar gives us plenty of space and really provides the open living environment that we wanted to maintain all year round. We just wanted our summer outdoor life to last all year round (and no sharp edges).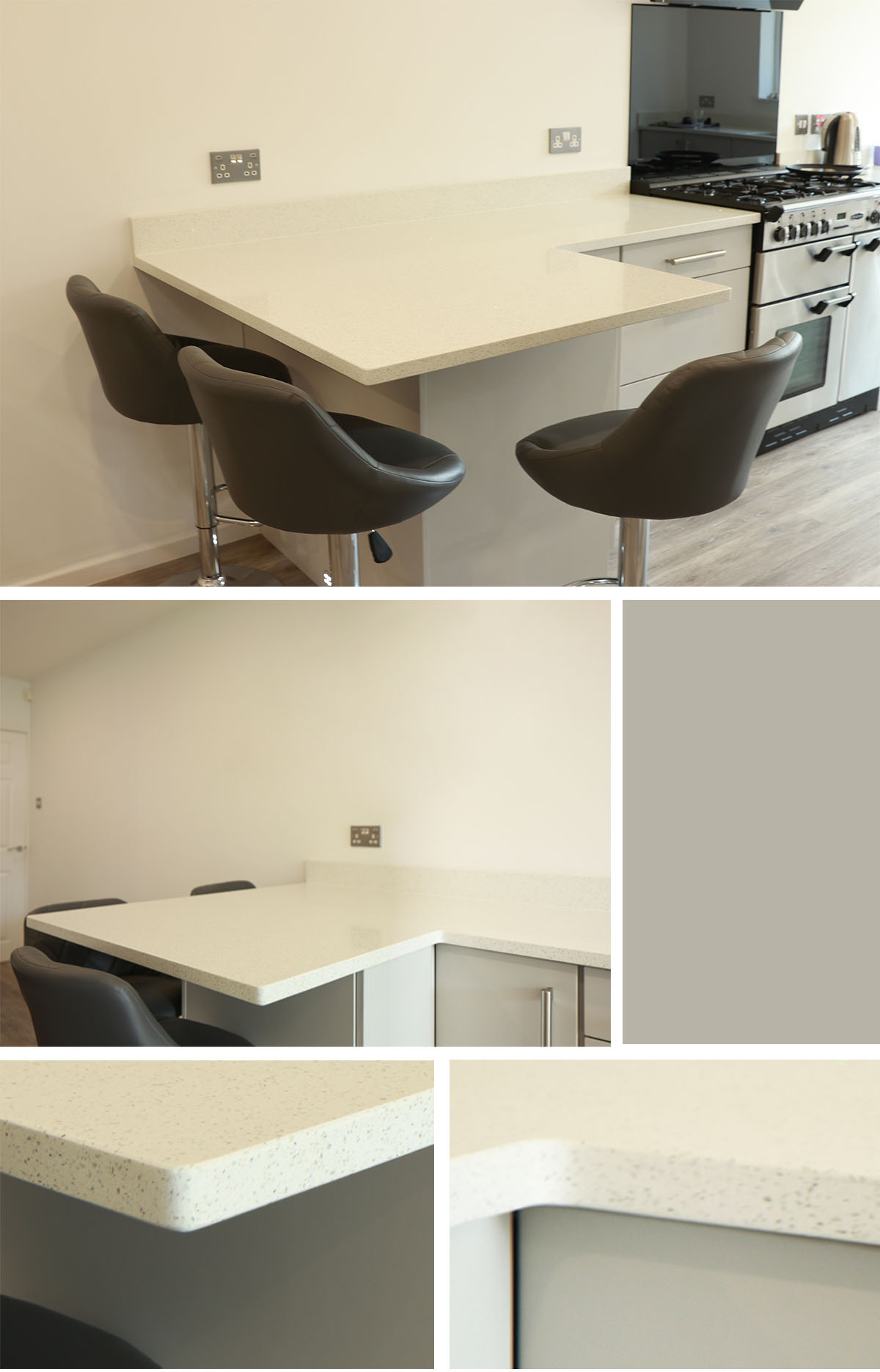 The worktop is a key feature of our kitchen because it covers such a large space either side of the cooker and we were considering various options and we were very grateful for the advice given to us by Kitchen Studio because every time we look at it (which is several times a day) we are very pleased.   The worktop we went with reflects the light and provides the airy feel throughout the whole kitchen.

making life easier really meant clutter free
Our previous kitchen was manageable and in our eyes it was starting to fall apart – fading fast is the only way we could really describe it and one of our bugbears was the waste that comes with a supermarket shop and we started this journey with a view that we wanted to accommodate the reality of life and have a home for packaging and boxing that just seems to come with everything.  The stacking of boxes in the corner had to stop and Kitchen Studio really came up with our dream solution that included an integrated recycling station next to the dishwasher ensuring the kitchen is always tidy and ready for to enjoy.

To my delight our daughter has taken a bit of a passion for baking and the designer incorporated as part of the kitchen a knock through that completely changed the dynamic and feel of the kitchen creating a space that we like to call the 'baking corner'.  All our equipment and tools to create are here and ready to go providing us with a great activity space for learning and fun.  Previously our kitchen made it quite cumbersome but now we can really bake to our hearts content with a dedicated space.